IMAN Arts & Culture Forming a Truly 'Beloved Community'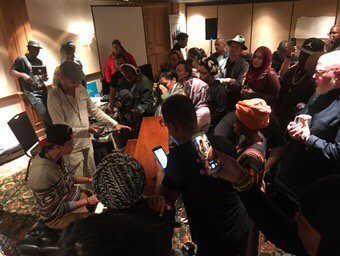 Whether in beautiful Wisconsin lakesides or in the heart of Chicago Lawn, IMAN's Arts & Culture department invested heavily in building a beloved community around its holistic, accessible programming in 2017. Dozens of artists from across the country—masters of spoken word, various instruments, dance and visual arts alike—gathered this October for IMAN's latest Artist Retreat. Much more than mere cyphers and jam sessions, the retreat served as an invaluable opportunity for attendees to engage the essence of IMAN's work, and collaborate with peers who have similarly found inspiration in the organization's mission.
The powerful bonds formed during the Artist Retreat affirmed the need for a formal cohort of "IMAN artists"; talented and expressive individuals who would be given institutional support as they channel their gifts into projects across various mediums. To make this a reality, Arts & Culture Manager Sadia Nawab led the formation of the IMAN Artist Roster, which allows creatives of all backgrounds to access resources and radically reimagine the role that artistic expression can play in the work of inner-city health, wellness and healing.
On the grassroots level, another layer of community was being slowly handcrafted in a quiet corner on the IMAN campus. Beginning in the soul-soothing days of Ramadan, IMAN's new Beloved Community Ceramics Studio has since introduced dozens of local residents to the spiritual connections and cultural traditions of the ceramics art form. Whether filled with schoolchildren carving out "what home means to me", or elders and Health Center patients molding and painting custom kitchenware, the Beloved Community studio was constantly buzzing with activity.
Deepening the program's intersectional nature has been the expertise and leadership of master ceramicist Khalid Partee. A graduate and current program instructor of the Green ReEntry program, Khalid is actively involved in teaching ceramics to his eager students. Several of his custom vases, chess sets, and plates are available for sale. For more information on the Beloved Community Ceramics Studio, and all things Arts & Culture, please email arts@imancentral.org