Atlanta Green ReEntry Graduation
Earlier this year, five returning citizens in Atlanta joined Green ReEntry, an intensive, 12-week training and education course in plumbing and project management offered by Inner-City Muslim Action Network (IMAN). Green ReEntry offers support to formerly incarcerated individuals facing barriers to employment, and has been a cornerstone of IMAN's work since the organization's inception 20 years ago.
Green ReEntry manager and master plumber, Jermaine Shareef, was teacher and mentor to these five hard-working men. Four of the five completed the program. Tariq Baiyina, Qawi Clark Gerald, Malik Bradley Brantley, and Karim Andrew Vance all disprove the stigmas and stereotypes that are hurtfully attached to the formerly incarcerated. Mr. Tariq Abdullah, a community leader and the CEO of Tarchitects LLC, led seminars on project management, during which the Green ReEntry crew directly applied their newly acquired knowledge and skills to create IMAN Atlanta's new program office located at 1007 Cascade Ave SW.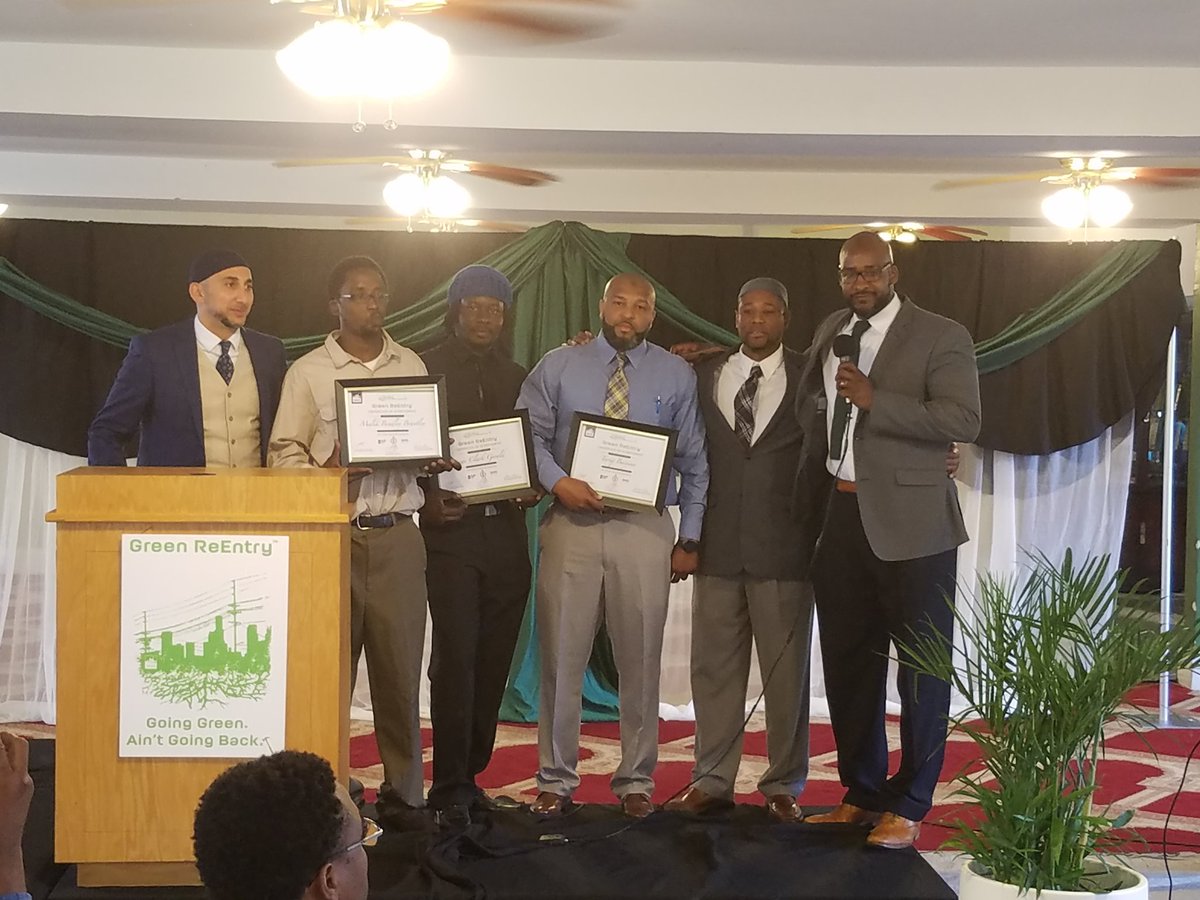 On Sunday, May 21, 2017 with a full audience, the crew successfully graduated from the Green ReEntry program and proved that they are greater than what our current criminal justice climate may have us believe. They are committed leaders and inspiring role models dedicated to transforming neglected neighborhoods into flourishing communities wherein our youth can feel safe and supported. The crew is dedicated to fostering the loving environments that were denied to them.
Family, friends, and fellow community members joined in the special graduation ceremony. IMAN Atlanta Director, Imam Mansoor Sabree, and Advisory Committee Chair, Sameera Fazili, attested to the power and strength of these extraordinary men, and the tremendous potential of Green ReEntry to push the criminal justice reform movement forward.
Other special guests in attendance were Dr. Rami Nashashibi, IMAN Executive Director , Alia Bilal, IMAN Director of Community Relations, and Mama Sol, a spoken word artist and activist from Atlanta, who elevated the spirit of #FightFearBuildPower through her poetry performances .
To learn more about IMAN Atlanta; please visit imancentral.org and 'like' IMAN Atlanta on Facebook to stay connected and support future Green ReEntry programs and activities.